Accreditation a requirement of ATA Membership
by: admin

Email this to a friend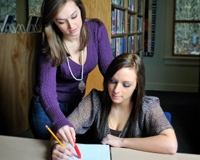 The Australian Tutoring Association (ATA) recently announced that tutor accreditation is now a requirement of ATA Membership.  This announcement was in line with the ATA's ongoing mission to improve the standard of tutoring services in Australia.
Accredited Tutor is very pleased to partner with the ATA to provide this world-first online accreditation service, and to uphold the accreditation standards that have been set by the ATA.
All accredited tutors must meet a number of requirements prior to being accredited, including:
Accredited Tutor must verify that they meet the working with children check requirements of their state or territory.  In states where no working with children check requirement is in place, the tutor must complete a National Crime Check.  Accredited Tutor is an accredited broker with CRIMTRAC – the federal agency responsible for administering national crime checks.
Tutors must have completed or be enrolled in tertiary education, and Accredited Tutor must independently verify that this requirement is met
Tutors must complete the online tutor training course which has been widely reviewed and endorsed by independent education industry experts.  Registered teachers and recently qualified teachers are exempt from completing the training course.
Benefits of accreditation for tutors and tutoring businesses include:
differentiating themselves as a tutoring service provider that is committed to the provision of ethical, high quality tutoring services
supporting the tutoring industry in Australia to achieve ongoing industry wide improvement in the standard of tutoring services provided to Australians
the opportunity to receive more students through promotion of their accreditation status, and through the 'Find an Accredited Tutor' service provided on the AccreditedTutor.org website
access to ATA Membership which includes the opportunity to secure significantly discounted public liability insurance
access to ATA support including dispute resolution services, discounted web development services, access to the recently announced Tutoring Scholarships Charity fund
For more information about the benefits of accreditation, click here.
Applications for accreditation can be purchased on the AccreditedTutor.org website or through the ATA website.
Comments