Education Guru nominated for THREE National Awards!
by: Accredited Tutor

Email this to a friend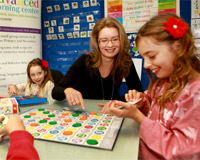 For Rachael Cornius-Randall (Accredited Tutor) the past year has been filled with hard work, creativity and passion, and it has paid off as she has just been nominated for three National 2014 AusMumpreneur Awards, and Rachael couldn't be happier!
The 2014 AusMumpreneur Awards presented by The AusMumpreneur Network celebrate and recognise Mothers in business achieving outstanding success. The awards are designed to highlight the growing number of women who successfully balance motherhood and business in a way that suits their life and family.
Mrs Cornius-Randall is the founder and director of Advanced Learning Centre (www.advancedlearningcentre.com.au), which specialises in empowering young minds to develop a love of learning, through the delivery of innovative programs designed to cater for the diverse learning needs of each individual student. "I am proud of the fact that Advanced Learning Centre is the only Accredited Tutor, within the Riverina. We provide a service, throughout New South Wales and Victoria, where all students, pre-school, primary and secondary school through to university/TAFE, can obtain additional assistance with their learning that supports what is taking place within formal classroom settings."
"Whilst our programs have an academic focus, we are proactive in integrating social and emotional development throughout each session, essential skills which build confidence and self esteem, in and outside of the classroom."
Rachael said "She is thrilled with Advanced Learning Centre's continued success, having started with only a handful of students; we now run individual and small group sessions and service many clients outside of the Riverina via Skype and through our popular holiday programs." "Rachael is proud of the fact that she has built up a successful business that makes use of her extensive expertise in the field of education, whilst having the ability to spend quality time with each of her children." There are many benefits to balancing business and motherhood as Rachael explains, "I have the ability of always being available to our children, they know where I am, and if they need me I am always close by. Advanced Learning Centre is family orientated, our children have grown up in the business, and they are involved in what I do – there are not too many careers where this can take place!"
However, it is not always easy and often can be challenging to be a successful business woman whilst raising a family, and Rachael gives this advice for others thinking about starting their own enterprise. "Turning an idea into a profitable business is about staying focused on what you are trying to achieve, and returning to this initial idea often, adapting it as your business develops and grows. For me, my focus is about looking at each day as an incredible opportunity to make a difference to the lives of each and every student, no matter the age, who comes through our door. Education can change lives, and offering a service which provides opportunities for each student to develop a love of learning is a wonderful opportunity. My aim is to empower a positive change – this is what gets me up in the morning, drives my day and gets me excited and inspired by what I are doing! At Advanced Learning Centre we focus on positive attitudes to learning, we want all of our clients to have fun while they are learning and to understand that learning is lifelong, it doesn't finish when formal schooling ceases.
Finalists will be selected by a public vote at www.ausmumpreneur.com with voting closing at midnight on Monday 6 October 2014. The winners of the 2014 AusMumpreneur Awards will be announced at a glamorous Awards event in Melbourne in October 2014.
Comments