Endorsement of Accredited Tutor by Dr William McKeith AM
by: Accredited Tutor

Email this to a friend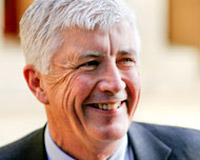 The following is a letter received from Dr William McKeith AM after his review of Accredited Tutor and specifically the training program that forms a key component of the tutor accreditation process.
To Whom it May Concern
Re: Tutor Accreditation – A system for Australia
I have had the privilege of reading and viewing a recently produced innovative series of Study Units that form the basis of a pathway to Australian accreditation for people wanting to practice as tutors in one of the many and varied tutoring locations across the country.
This accreditation model is rigorous and thorough.  it is content rich and addresses the important matters that impact on quality delivery of tutoring services.  The six Study Units are well selected.  There is excellent symmetry between the documentation and the videos that together present the information and advice contained within each of the Study Units.
It is essential that non teachers are appropriately professionally trained in the regulatory and professional expectations of one to one and group tutoring.  A pathway to achieve this outcome is overdue. This accreditation model addresses the core issues and essential requirements that are involved in preparing non teachers for the wide variety of tutoring contexts and unexpected situations which can arise.  Working with young people demands of tutors, essential knowledge and desirable skills.  These Study Units systematically prepare potential tutors for the responsible roles they are approaching.
The Study units are attractively presented and easy to follow.  They are well crafted and thoughtfully designed.  Clearly, the planners are very familiar with the Australian tutoring industry, the regulatory environment and with the education needs of young people.
If there was any pre-existing doubt about the need for some form of accreditation pathway for tutors this was removed as i worked through each of the Study Units.  Accrediting tutors is essential to the future of this industry and importantly, to the nurturing of effective, purposeful relationships between tutor and student.  This accreditation model brings a measure of quality control and training to the industry.  Those responsible for this initiative are to be congratulated on the high standard of this model.
Dr William McKeith AM
Managing Director, Schools Active Worldwide
July 2013
Comments