Testing times ahead for students online
by: Karen Keast

Email this to a friend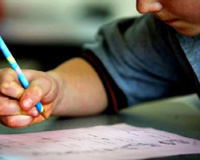 The days of the pen and paper exam could be numbered in Australia.
The Victorian Government has begun work on a new assessment platform that will see all school exams, including the Victorian Certificate of Education (VCE) exams, moved online.
With students spending more time than ever before typing, clicking and swiping on technology, the government says the move to go digital with exams makes sense for both students and teachers.
"We are already in a world where digital technology is an integral part of Victorian classrooms, so the development of this platform is a logical step," Education Minister Martin Dixon says.
"Having all our testing in one place means teachers will have better information on where their students are doing well and where they're having difficulty.
"Teachers will only need to use the one system, rather than navigating through the range of assessment tools in place today."
Other states have already flagged an interest in Victoria's move to develop a one-stop-shop for testing children, with the online platform expected to track children's progress from their early childhood through to the end of their schooling years.
The digital overhaul also signals a new era for tutoring.
While the move away from handwriting towards a focus on technology enables tutors to better tailor their lessons to individual students, it also poses challenges for tutors and tutoring.
Australian Tutoring Association CEO Mohan Dhall says tutors are currently operating in a hybrid space.
"All governments are starting to think maybe we should make assessments online," he says.
"We are in a strange hybrid situation in respect with technology and how kids learn.
"We have kids who are more and more brought up with online and typing but at present they have to write exams and assessments and they work things out with paper."
While Mr Dhall says he doesn't have a preference for exams to either become hi-tech or remain in a more traditional format, he concedes students are increasingly finding it difficult to use pen and paper in exams.
"Students get very tired," he says.
"They do find it hard to write quite quickly because all exams are under time pressure. It's a skill they need to practice.
"Students invariably find they need to slow their thinking as they are thinking ahead of their writing."
With more students equipped with tablets, smart phones and laptops, Mr Dhall says it's important tutors consider and plan how they want their students to engage with technology.
He says a good tutor will always put the students' needs first.
"Watching how students respond to different media, electronic and paper, is really important," he says.
"Tutors should really be thinking about the type of skills they are imparting to the children and to ask what effect their tutoring will have on either the building of those skills or the widening of those skills."
Regardless of technology, Mr Dhall says it's paramount tutors are creating students who are independent thinkers.
"I want students to think. They need to be critical thinkers," he says.
"Whether they are handwriting or typing or using electronic media, the difference for me is do my students think critically?"
Comments